Marcus Lovett began his professional career  at nineteen in Chicago in One Shining Moment at Drury Lane, Watertower.  One month after graduating Carnegie Mellon University (BFA "86), he landed his first Broadway job in the original Broadway production of Les Miserables.
His other Broadway and West End  credits include: King David, (title role) Phantom of the Opera (title role), Whistle Down the Wind (The Man), Carousel (Billy Bigelow), Aspects of Love (Alex Dillingham).  Marcus made theatre history in 1994 by performing the lead in two Broadway shows within a two day stretch.  Having played what turned out to be his final performance of Phantom, he was asked by Lincoln Center to leave Phantom to learn the role of Billy Bigelow, to fill in for their ailing star. (They had temporarily closed their production.)  He did his first performance of Billy Bigelow at the Vivien Beaumont, forty-seven hours later.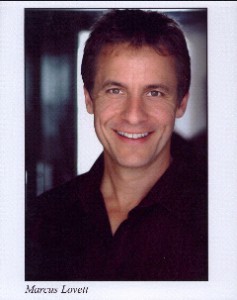 His Off-Broadway credits include: Urinetown, (Bobby Strong.) Queen Amarantha, The World Goes 'Round, the Music of Kander and Ebb. Workshops of Up Against It, and The Knife.  His film credits include, Jeffrey, Pieces of April, and the musical animation, "Young Herc," (Title Role.)  He has been a soloist at Carnegie hall, L'Opera De Paris, and the Royal Albert Hall.  He is on the cast albums for Les Miserables, Whistle Down The Wind, and Andrew LLoyd Webber's Fiftieth Birthday Celebration at The Royal Albert Hall.  His debut solo album, Marcus Lovett, The Give Moment, was released in 2008. In addition to his stage and music career, Marcus has recorded thousands of promotions and commercials for television, and is currently the voice of Good Morning America on ABC, and for the promotions for The Late Show with David Letterman.  He is working on a project with Multi-Grammy winning composer and lyricist, Jim Steinman, and Grammy winning producer Steven Rinkoff, and another original project with his  collaborator, Nolan Gasser.