Are you ready for some fun? Then grab yourself a tropical drink and let Coral reef transport you to a tropical beach, where there are water and waves, sunshine and sand, happy people and great music.
Coral Reef is a Jimmy Buffett Style Caribbean / Beach Party band, that plays not only your favorite Jimmy Buffett and other Island songs from artists such as Bob Marley, but also rocks with some great California Surf music from the Beach Boys and other surf bands.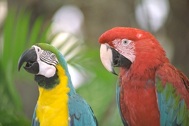 Coral Reef Features Don & Mary Hoeber and can perform as a duo for small pool parties, or up to our complete 9 piece show with costumes and props. We have that authentic Caribbean sound sound and If you have ever been to the Islands you know how much fun you can have there. Coral reef will make you feel like you are there. If you like great California surf music, wait till you hear our fun songs with four part harmony. We will bring the limbo stick, and some other fun things. You can bring a smile and keep it with you for days to come. So leave your worries behind and come join our conga line!
Hot Hot Hot

4:05

On and On

3:06

Kokomo

3:37

Volcano

3:26

Barometer Soup

4:58

Surfin Safari

2:19