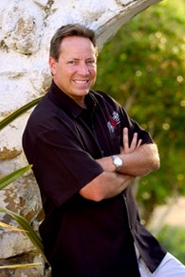 DJ Miles Pelky has nearly 22 years' experience in the wedding and entertainment industries. He has provided the sound track for more than 4,000 weddings and other special events. His experience with corporate events ranges from awards dinners to a three-week Mediterranean cruise for IBM's top sales people. In fact, before coming home to San Diego to become one of the area's leading disc jockey entertainers, Miles was voted Top DJ/MC for Carnival Cruise Lines three years in a row.
Through his extensive experience and love for the business, Miles has developed an approach that shatters the DJ stereotype and sets a higher standard for the industry. He does more than just play the music you love. Miles is a natural on the microphone and is a seasoned master of ceremonies, making all the announcements throughout the event and coordinating with other vendors to keep the event flowing and on schedule.
To provide the highest quality sound, Miles uses only the best sound equipment available, including QSC 1000-watt active speakers, a Mackie sub-woofer, a Rane MP24Z sound mixer, a Denon DN9000 dual CD/MP3 player, and Shure wireless microphone. Miles operates the system from a custom-built control console, using PCDJ, a computer software program that includes 30,000 songs. He also brings a backup iPad2 to every event, loaded with 1,500 songs.
Miles is an experienced professional with a proven track record for success. As Miles himself says, "Experience the Difference Experience Makes!"
https://youtu.be/ZR4vGwn9cno