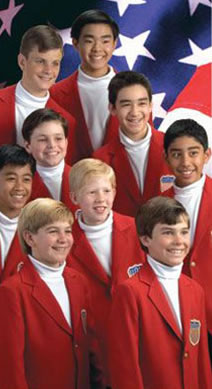 The All-American Boys Chorus makes a difference—one boy at a time.
Serving boys age 8 to 15, the AABC engages, challenges and inspires boys with a unique and innovative opportunity to maximize their potential.
They become outstanding musicians and responsible leaders in our community through our multi-faceted training, mentoring, choral programs and concerts. These students hail from 30 cities in Orange, Los Angeles and Riverside counties.
These 9 to 14-year-old choristers present a wonderful SALUTE TO AMERICA'S MUSIC! Selections from Broadway musicals including "West Side Story," "Showboat," the "Music Man," and "The Lion King;" medleys featuring the California sounds of the Beach Boys, the fabulous music of Dixieland and the Big Bands; spirituals, country/western tunes, a patriotic tribute to the USA Armed Forces and more!
The combination of the boys' charm and professionalism is heartwarming, irresistible and FUN!
Their concerts are true visits; with the boys always on hand to greet and meet the audience in the theatre lobby following the concert.
The Boys Choir is completely self-contained with professional audio and lighting and a superb tech crew.