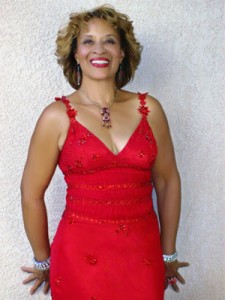 Angie Whitney is a native Californian who commenced her musical career at the very young age of four, singing duets with her twin sister, Rachel. The twins soon advanced to becoming members of their father's church choir in Vallejo, California, and their talents developed throughout their early years due to the growing demand for appearances before local groups and organizations.
Angie's professional career gained momentum when she formed a singing group with her twin sister and cousin known as THE NEW HORIZON, and were selected as background singers to appear with the SPINNERS, touring the United States and the world for three years. Angie has stepped into the center spotlight all on her own and has amazed critics on both sides of the ocean with her sizzling, sensuous distinctive singing styling ranging from jazz, blues, swing, pop, rock, country and gospel. She has appeared in a variety of concerts, television specials and events.
In addition to appearances with her own groups…Angie Whitney Jazz & Blues Clique and Easy Street Big Band Orchestra (specializing in the most beloved and popular tunes of the golden ages of American music) … she performs as a Solo Vocalist on Keyboard, and also shares her talent with many other performance groups and agencies when available.
Angie is a dedicated and talented artist who never fails to captivate audiences, with her very special singing style and variety of music that can be enjoyed by all generations.
She's a powerhouse of musical talent! Elegant and sophisticated! A voice like honey!
AUDIO DEMO
Route 66

Angie Whitney

3:12

Check to Cheek

Angie Whitney

3:44