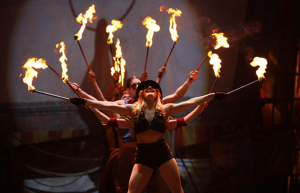 Cirque Berzerk is a  unique flavor of adult psychedelic vaudevillian tomfoolery.  From stilt walkers to aerialists to punk rock clowns to pro riggers, we work together as a cohesive unit to produce visions of sexy firey burlesque, dramatic flight and vaudevillian tomfoolery.
Cirque Berzerk makes the fantasy come to life. From individual acts & roaming characters to theme specific stage shows we dance on the high wire of sensual wonderment.
They are a tight knit crew who finds immense joy in putting on a mind-blowing show; and according to audiences and clients the energy & joy is infectious.

VIDEO DEMO