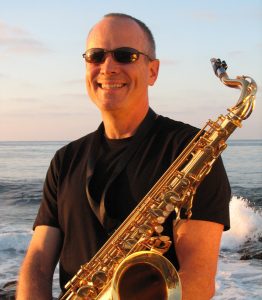 Instrumental and vocal jazz at its finest, featuring Bill Shreeve on soprano, alto, and tenor saxophones and flute. A three to seven piece band featuring classic standards to contemporary jazz and original material, this band showcases some of Southern California's finest musicians.
Bill has been performing professionally since 1976 in a variety of musical ensembles from small jazz groups, to 17 piece big band orchestras, to top 40 and rock bands. Bill has performed with Fattburger, Peter Sprague, Steve Laury, Bill Watros, Jaime Valle, Hollis Gentry, The Coasters, Danny Gans Orchestra, The Temptations, Charo, local cover bands Haute Chile, NRG, Liquid Blue, Soul Persuaders, Diva Soul, The Heroes, Kicks, Baytown Band and many others. He is a freelance woodwind player in a variety of pop, rock, and jazz groups in the Southern California region.
Bill is strongly influenced by a diverse bunch of Saxophone luminaries including Stan Getz, Paul Desmond, Cannonball Adderley, Phil Woods, Michael Brecker, Brandon Fields, David Sanborn, Eric Marienthal, and Hollis Gentry to name a few. In the early eighty's, Bill began leading his own jazz groups, Tangerine, The Shreeve Brothers, and then The Bill Shreeve Sextet performing at all the popular jazz nightclub venues throughout the San Diego region.
In 1985, Bill created what was to become one of Southern California's more popular dance bands, Aire Play. Aire Play performs almost exclusively at corporate events, weddings, and private parties of every nature and features five to twelve musicians. Aire Play delivers a wide selection of material from current top 40, rock, soul, disco, R & B, contemporary and classic jazz, swing, Latin, and big band era music.
DUO AUDIO SAMPLES
TRIO AUDIO SAMPLES
PHOTO GALLERY
SELECTIVE BAND OPTIONS
Summer Wind
Sinatra Celebration
Summer Wind is a specialty band focused on that classic Sinatra, Dean Martin, Bobby Darrin sound. Featuring the amazing vocal work of Dave Scott, Summer Wind the perfect compliment to upscale events where the classy, sophisticated sound of vintage Sinatra will impart an atmosphere like no other.
The Power Trio
Variety Dance Band
This compact, talent rich trio delivers a full variety repertoire of listening and dance music in just three pieces! With Bill on saxes and flute, a keyboardist (also playing key bass), and a drummer/vocalist, the Power Trio is the smallest, most versatile variety band in Southern California. You get quality instrumental jazz and a range of vocal material from jazz to rock, pop and soul!
Caribbean Sax & Steel
Tropical Island Sounds
Pump up the fun at your party, wedding or corporate event with melodies and rhythms of the islands! Caribbean Sax and Steel is a four to seven piece band featuring truly great vocals and steel drums, along with band leader Bill Shreeve on saxes, flute, EWI (wind synthesizer). You'll hear traditional reggae, calypso, soca, samba, & bossa nova from the Caribbean as well as a wide variety of pop and jazz standards performed island style.
The Windsurfers
Rock and Soul from the 50's through the 70's From the Beach Boys to James Brown, the Windsurfers feature amazing vocal talent and instrumental talent.