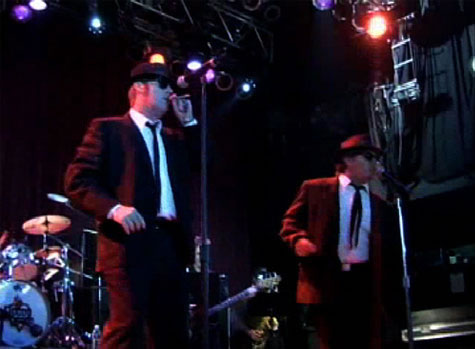 The "BLUES BROTHERS" is comprised of two very talented & accredited performers, George Ratliff and Michael B. Moynahan. The BLUES BROTHERS Show was originally designed by George for Universal Studio's in California and Japan. He also designed the "BEETLEJUICE GRAVEYARD REVUE" and the "MOTOWN EXPRESS" shows for them as well. The "BLUES BROTHERS" have been a partnership for over fifteen years. They have received rave reviews all over the country with their high energy show.
George Ratliff got his start in New Your City in the Broadway cast of "Grease" followed by National Touring companies of "Sophisticated Ladies" as well as a Duke Ellington Musical. He has appeared in "The Majestic" with Jim Carrey as well as with Drew Carey in "Geppetto."
Michael B. Moynahan is a show biz vetran of over 25 years. He enjoys a successful career as both an actor and musician. He can be seen daily on TV on the Emmy Award winning children's series "ZOOBILEE ZOO." He has had roles in television, broadway, and made many commercials. He has also kept busy plaing in various bands.
VIDEO DEMO
PHOTO GALLERY