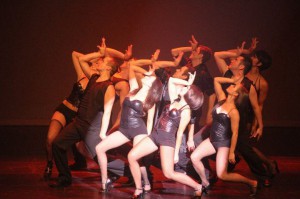 Bring the Big Apple to your doorstep!
Broadway and Beyond is a non-stop celebration of some of the biggest musical shows of all time. The gals of Chicago will "Razzle-Dazzle" you, from one stunning number to the next – while the Jersey Boys aim to croon their way into your heart. And you'll feel positively Wicked when this cast of Broadway veterans shows you how to "Defy Gravity".
With a Playbill that includes selections from shows like Phantom of the Opera, Mama Mia, Smokey Joe's Café, The Lion King, Hairspray, In the Heights, Les Miserables, and RENT, we can also customize this extravaganza to your event. If you don't see your must-have musical on our list, just let us know and we'll produce segments of your favorite shows, from scratch!
This fully-staged production of live singing, Broadway caliber dancing, dramatic lighting and beautiful costumes, is performed by a cast of Broadway credited performers – many of whom have actually performed these shows on Broadway!
Take a musical tour of epic proportions, without ever having to leave your hometown.
We're delivering the best of Broadway, directly to you!
VIDEO DEMO
PHOTO GALLERY