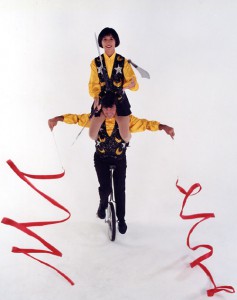 With Terrell & Takako they are not just limited to being a Juggling Act.  These two are more than just a magic act, mime or even just able to offer Origami!  And yes, you guessed it…. They even offer Japanese Calligraphy!
Whether you're bringing them to your event as  individual talents, or as a performance team, Terrell & Takako are entertainers who will make the difference at your venue.  Both Terrell & Takako are accomplished Jugglers – with clubs, knives,  torches, balls, rings, boxes, scarves and more.  But, this dynamic duo are also skilled as Unicyclists, Mimes, Clowns, Professional Character Greeters, Balloon Sculptors, and Origami Artists (from traditional Japanese models, to "motion" models, to Dollar Bills)!

And if you can believe your eyes, additionally, Terrell's talents include Hat Manipulations, Cup Manipulations, "Devil Sticks", and Rope Spinning.  Not the second fiddle, but an artistic equal Takako's own unique skills include Asian Character Calligraphy, Umbrella Spinning, Bullwhip Cracking, Diablo Spinning, Rola Bola Balancing, and Face-Painting.