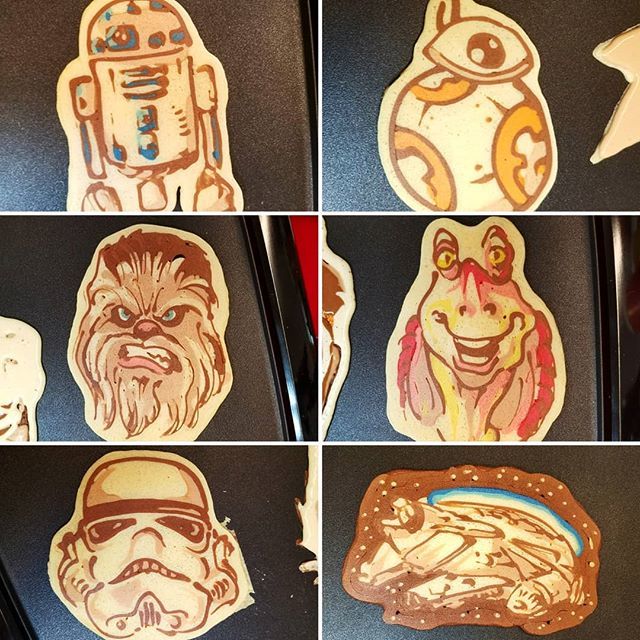 It's the news we've all been waiting for. It's okay to play with your food! At least your pancakes! Here's Dan's (the owner/creator of Dancakes) story in his own words.
"I graduated high school with less-than-stellar grades. I didn't go to college. Probably could have, but didn't. I was tired of the school system and loved the simple freedom that came from living and working paycheck to paycheck. Part of the reason my grades were so bad was my incessant doodling; I wrote and illustrated my own comics instead of turning in my math homework. After school ended I found myself working the slow shifts at a diner in South St. Louis called Courtesy. And when I say slow shifts, I mean, problematically slow. Working for tips ain't no joke. After a few months of the dredge, I started to think a little more creatively. Folks on the morning shift would throw mickey-mouse-ear dollops on their pancakes to brighten days and open wallets, and I had a light-bulb moment: Pancakes don't need to be round. Technically, any shape you draw on the griddle will cook solid and hold form.
The very first smiley face pancake I ever served netted me a $15 tip (thanks Chad) and changed my life.
Fast forward several years of this: After learning some layering and design tricks (thanks Tracy), all of a sudden a photo collage of me making themed pancakes and silly faces (thanks Brent) went viral. In November of 2013, I was flown out to NYC with my best friend, Hank, to appear on national television (NBC's The Today Show) making celebrity pancake faces for the whole country. One thing led to another and Dancakes was born. I had the art chops, and Hank possessed a fantastic business acumen that made him an invaluable part of what we wanted to build."
Today, they have privilege to fly around the world serving pancake art to people of all ages, shapes, and sizes, and from all walks of life; From Sao Paulo to Dubai to Bangkok to Louisville Kentucky, this medium makes people smile. Their brand is growing and their company now features multiple full-time professional pancake artists. We have millions of social media followers and are blessed not only with the chance to travel, but the chance to be a content creator for massive brands and personalities, and they get to do all of this as friends, and as a family.
Dancakes is the first name in Professional Pancake Art. Their talented and charismatic artists create portraits and designs out of 100% edible pancake batter for events around the world, bringing joy and laughter wherever we go. They also craft video content for brands and private clients that regularly attracts millions of views on social media. They've created a product line and a video series geared towards sharing this fun and delicious art medium with the world. If you want exceptional pancake art crafted by exceptional people, accept no substitutes.
VIDEO DEMO


PHOTO GALLERY