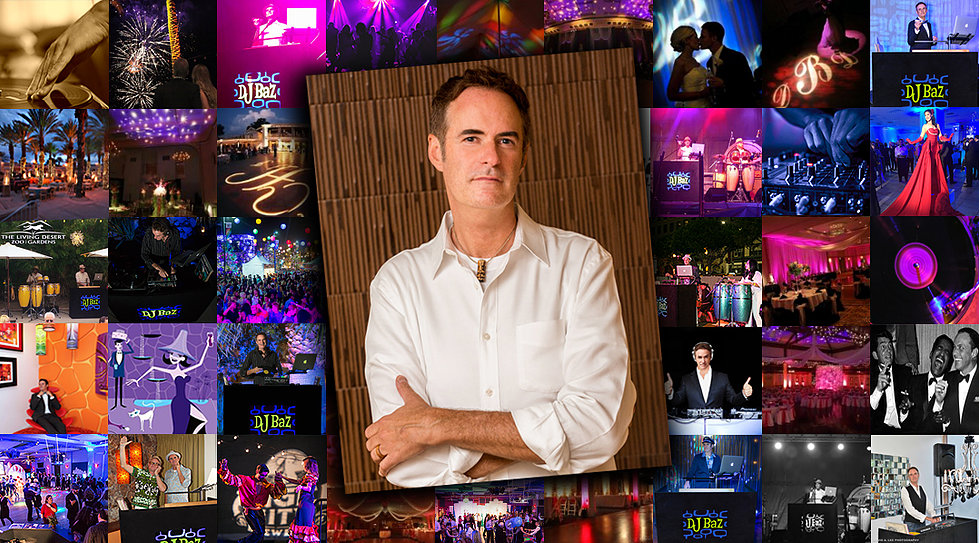 DJ Baz has been music-obsessed since the age of 12. As he tells it: From an imaginary radio station in a corner of my bedroom I would "announce" the time and temperature before introducing the next song on my record player. Years later I hosted a nightly radio program on WYSO at Antioch university in Ohio.
Today I'm a "conceptual" DJ with many years of live show production experience, curating unique playlists for all types of events. Beyond the music, I offer a variety of custom DJ booths to match the style of your scene from sleek to vintage…
My latest innovation is The Magic Gramophone. I built this functional art piece from vintage and custom-made parts. The double-horn gramophone blows steam and bubbles on cue, and is fully self-contained with hidden QSC K-12 speakers and uplighting. Depending on the vibe you want, The Magic Gramophone looks awesome playing everything from Vintage Jazz to Balkan Beat, Classical, Western Swing and Electro-Swing (Great Gatsby).
Urban to tropical, I've got you covered. Retro Cocktail Jazz, Hawaiian/Tiki, Hollywood Glam, Cuban Nights, World Beat, Vintage Latin or after-hours deep bass riddims. Based in Palm Springs, CA, I spin for the major fundraisers, museum events, red carpet galas and corporate functions here, and often in Vegas and Phoenix/Scottsdale as well. I regularly work with live percussionists, and popular themes include:
Atomic Cocktails | World Beat | Great Gatsby | Shanghai 1940 | Vintage Hawaiian Luau | Murder Mystery Party | Cuban Nights | Moroccan Fête | Speakeasy | Moishe's Bagel (Klezmer) | Doctor Who | Café French 75 | Masquerade Ball | Vintage Christmas & NYE | Safari Swing & Jungle Jazz
On a parallel track, I am also a professional didgeridoo player––a talent that's often hard to find in the U.S., so keep me in mind for Australia-themed events. I've been the go-to didgeridoo player for film soundtracks, TV commercials, live events and studio work for over 20 years on the West Coast. Will travel.
VIDEO DEMO
PHOTO GALLERY