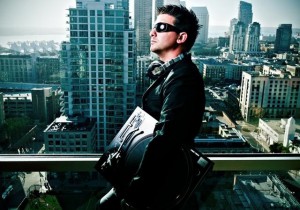 DJ BRANDON was first introduced to spinning in the early portion of 1999.  Traveling to the far, never before seen regions of San Diego, DJ BRANDON became fascinated with how DJ's were mixing two songs together while never disrupting the energy or atmosphere of the party.
After being hooked on the idea of being a DJ, DJ BRANDON was searching for his starting point and his segway into his career as a professional DJ.  DJ BRANDON expanded his search looking at some of the more profound DJ's such as Carl Cox, Ferry Corsten, Mix Master Mike, DJ Q-Bert to San Diego's premier DJ's such as DJ Scooter and John Bishop.
DJ BRANDON happened upon a well known DJ by the name of Donald Glaude, in an after hours club who was known for DJ'ing incredible parties.  He controlled the entire club with his music, and at that point DJ BRANDON knew this would be the foundation to his DJ career.
Presently, DJ BRANDON has expanded his music genre's to which he now specializes in a funky lounge house to Top 40's Hip Hop, R&B, Old School, to 60's, 70's and 80's.  DJ BRANDON now has had the opportunity to DJ at some of San Diego's premier night clubs such as On Broadway and Crudo while also DJ'ing weddings, corporate events and even house parties.