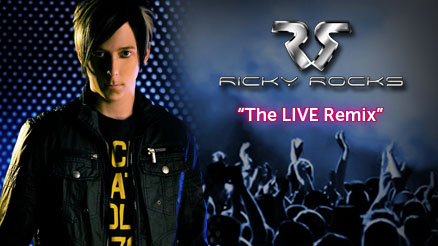 Ricky "Rocks" Lorek is an explosive force in the entertainment industry
worldwide. Renowned for his raw power, distinctive sound, and feel for the
groove, he quickly made a name for himself in the music industry.
Ricky is
creating a new movement and bringing DJing to a whole new level in the
sophisticated private event world by seamlessly combining live drums/percussion with all styles of music (Top 40/Old dance classics/Hip-Hop/Rock). He creates a live drum remix on the spot with no rehearsal time with the DJ.
Every event is tailored to the client, all genres, and there are no boundaries. Ricky plays "for" the event keeping it low key at times and bringing the energy up when needed for the dance sets whether he's behind the drums or DJing. He brings a "live" feel to the original tracks we all know no matter what style bringing more energy, excitement, & life to the party. Ricky's particular approach to the music and unique stand up drum kit sets him apart and makes him a true innovator and incomparable to the rest.
His talents led him to perform at some of the most elite A List celebrity events around the world such as the Grammy's after parties, MTV, VMAs, Superbowl XLII, many movie premiers & red carpet events. He has performed/shared the stage with some of the industries most well known talent such as The Red Hot Chili Peppers, Collective Soul, & Shinedown to name a few. He has also performed with Joel Madden, and rock icon Tommy Lee on their DJ sets. Ricky has also gained the media's attention by being featured in many media outlets such as Modern Drummer Magazine & FOX TV. He has headlined major events coast to coast from Hollywood, Las Vegas, Chicago, Hawaii to Asia, and Europe. Ricky has taken everything he has learned from the entertainment industry throughout the years and has applied it to the more sophisticated high-end private event world. Ricky strives on staying ahead of the trends and providing the absolute best quality of entertainment, not cutting any corners. His goal is to build each of his client's events uniquely and leave their guests talking and wanting more.
VIDEO DEMO