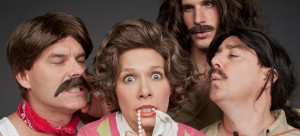 The Groundlings is an improvisation and sketch comedy theatre that has been entertaining LA audiences for over 36 years.  We're a non-profit organization founded by Gary Austin in 1974.  
A "Groundling" is one of the 30 company members who write and perform in the theatre's shows and teach classes at the Groundling's School. Our school has been the foremost comedy training ground in Hollywood and the springboard for countless careers.
Like whose?
Well, we hate to name drop, but since you asked…   Our alumni include Will Ferrell, Kristen Wiig, Phil Hartman, Lisa Kudrow, Paul Reubens, Cheryl Hines, Jon Lovitz, Larraine Newman, Will Forte, Maya Rudolph, Michael McDonald, Kathy Griffin, Phil LaMarr, Cheri Oteri, Chris Kattan, Julia Sweeney, Chris Parnell, Ana Gasteyer and Rachael Harris… just to name nineteen.
The Groundlings offer a "come to you" show perfect for corporate events!  Contact us for more information and how we can tailor a show to specifically match your group.
PHOTO GALLERY