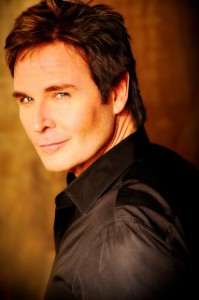 Jeff Tracta has become the most sought-after impressionist in the corporate market today. With an array of over 100 spot-on impressions, Jeff celebrates over fifty years of music, comedy, and pop culture.
From the most current music artists — the Black Eyed Peas, Eminem, and Lady Gaga — to legendary icons such as Bob Dylan, Billy Joel and the original Jersey Boy Frankie Valli — and comedy tributes including Adam Sandler, George Lopez, Joan Rivers, Ray Romano, Jeff Foxworthy, and the entire cast of Family Guy — Jeff's show has something for everyone.
His multimedia experience is wowing audiences around the world. The Los Angeles Times calls him, "Hilarious! A comic genius, Tracta is superb." The production also includes an uproarious homage to boy bands such as *NSYNC as well as a classic TV tribute in which Tracta is transformed into characters from such favorites as Gilligan's Island, Green Acres and Bewitched.  Las Vegas magazine calls the show, "A seamlessly staged comic tour de force."
Tracta first earned international fame starring for eight years as "Thorne Forrester" on the hit daytime drama The Bold & the Beautiful on CBS. His musical talents manifested in that same role, with all of Jeff's albums going triple platinum worldwide. He has performed sold out concerts in stadiums and arenas around the globe from Holland, Belgium, Switzerland, Finland, Italy, and Germany to India, South Africa, and Japan.
Jeff made his Broadway debut starring as Danny Zuko in Tommy Tune's revival of Grease at the Eugene O'Neill Theater. His award winning comedy performance in Agency received rave reviews and won the Los Angeles Critics Choice Award. Tracta is a frequent guest on national talk shows and has been profiled on news shows such as CNN, Good Morning America, and Entertainment Tonight.
Jeff Tracta is a world class entertainer, a pleasure to work with, and will customize each and every show to deliver a guaranteed hit.
VIDEO DEMO