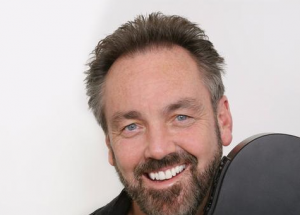 Kim Olson is a versatile entertainer who will add a unique touch to any event! During the cocktail hour, Kim circulates throughout the crowd; with guitar in hand, he approaches small groups and instantly composes songs about anyone and everyone.
A few quick questions, an article of clothing, a humorous remark, all can be used to spark a song.
Kim Olson brings people together, sets a mood, and gets a party off to a running start. During dinner, he may either visit each table or provide background music, at the discretion of the host. After dinner, when coffee and dessert have been served, Kim presents the final touch: a full length song, composed ahead of time, is performed for the entire party. The song can be a surprise, something for an organization, a family, the honoree, the Board of Directors, obviously anything or anyone … Kim meets with \"people in the know\" to gather information prior to the event. His song is written, checked by the host, then revised as necessary, with the final result being a hysterical and engaging cap to a great evening.
Kim Olson has proven his ability to appropriately entertain every type of audience. Performing daily at the Disneyland Hotel over the past ten years. Kim has delighted people from around the country and around the world. His unique voice, wide range of material, and winning personality brings visitors back again and again.
You have to experience Kim Olson\'s quick wit, engaging charm and showmanship for yourself, then you\'ll want to have an event to share him with your friends. As a special gift, CD\'s  can be made of Kim\'s performance to be sent to friends and business associates, or presented after the party, to an honoree.
VIDEO DEMO