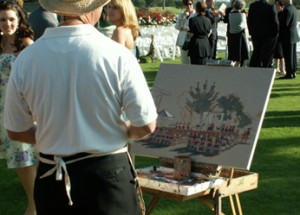 Live Event Painting provides the ultimate way to preserve your special day by capturing your celebration on canvas – during the time of the event as it takes place.
Your memories will be captured on 24″x30″ canvas, in acrylic paint and presented to you that day! Your special event guests will love to watch as the progress unfolds and once you are presented with your painting, you will have a heirloom to cherish forever.
Live Event Artist is the perfect gift for any type of event or celebration – opening receptions, award dinners, weddings, birthday parties, anniversary parties, any special event in life can be captured in this beautiful style.
How does it work?
A Live Event Artist will arrive approximately two to three hours before the start of your event to set up the blank canvas and begin the process of capturing the feeling and flavor of your event. Our Artist will be working to capture the essence of your event as the moments unfold.
As your celebration progresses, our Artist will be finalizing the details on the painting.
We have found that guests love to take a look at the work in progress and are always
facinated by how the painting evolves – it truly is a wonderful form of entertainment, as well as the perfect event keepsake.
Your painting will be complete in approximately 5 hours.
VIDEO DEMO
PHOTO GALLERY