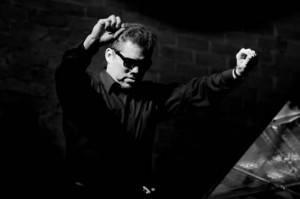 Michael John found out early that he had the voice of Billy Joel. Michael has worked hard at perfecting his Billy Joel show and landed a gig playing with the world famous Legends In Concert portraying the famous piano man.
Michael has worked for many entertainment companies such as Innovative Entertainment Group, Debut Entertainment, Jamie's Rock N Roll Legends, RNRH Entertainment, Classique Productions, Golden Ticket Productions, and DMH Enterprises. He has performed at conventions, corporate events, birthday celebrations, holiday events, and many clubs around the country.
Michael is not just a celebrity look a like, although he does have the Billy Joel look down. He also can play the piano, sing, and entertain with the same intensity and passion.
He has a long song list that he mastered, from the familiar, "Only the Good Die Young" and "Piano Man", to the classic "Angry Young Man" and "Scenes From An Italian Restaurant."
Michael also has teamed with Elton John tribute artist's Joel Mason and Eric Turner to recreate the Face to Face show. Just like the original tour, each artist performs a solo set with a five or six piece band, and then culminates the show with a Face to Face set which features both of them playing together on two pianos trading off lyrics on each song they perform.
The energy is twice the level and with each performer adding funny performance bits, sing-a-long parts, and spontaneous humor. The show has been performed with a band or just the two performers at the pianos.
Michael loves being able to jump out from the piano during his shows with his band and "reach out and touch" the audience. In addition to his Billy and Face to Face shows, he has been performing dueling piano shows across the country and at the world famous venues for the past eight years.
Dueling pianos is a high energy, audience interactive show where the audience is just as much a part of the show as the performers.
From having the audience sing-a-long to having them participate in fun dances, Michael incorporates this style into his Billy Joel shows making it a fun, rocking time for everyone!
VIDEO DEMO
AUDIO DEMO
Billy Joel 1

3:25

Billy Joel 2

3:45

Billy Joel 3

5:34