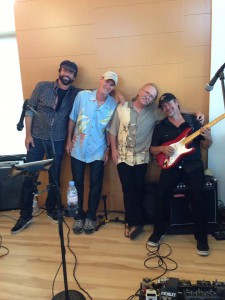 Rons Garage originated in the spring of 1994 as a trio devoted primarily to acoustic music.  It did, indeed, come to fruition in a garage in Coronado, California. The band has played at many prestigious venues over the years.  The longest of these being the Hotel del Coronado.
The band recently concluded a 19 year run on the "sun deck" playing every summer (May through October) on Saturdays and Sundays.  Other venues in the San Diego area include:  The Catamaran, Humphrey's Backstage, Barefoot Bar, Amaya in La Jolla, Hennessy's in Carlsbad and Pacific Beach, McP's Irish Pub in Coronado, Costa Azul in Coronado, The Boathouse (now 1887 on the Bay) in Coronado, Dick's Last Resort in downtown San Diego, the now defunct Firehouse and Island Sports and Spirits in Coronado, BNS Brewery in Santee, Coronado Brewing Company in Coronado and other numerous venues.  The band has also played many private and corporate events at the Hotel del Coronado, La Jolla, Laguna Beach, Las Vegas,  Nv., Phoenix, Az., Surprise, Az., Scottsdale, Az., Tuscon, Az., Loews Coronado, Hard Rock Hotel downtown San Diego and local yacht clubs in the San Diego area (Coronado Yacht Club, Coronado Cays Yacht Club, San Diego Yacht Club, Southwest San Diego Yacht Club).
Showcasing a variety of cover tunes, the band plays hard rock , classic rock, pop music and country.  With such a wide range of musical standards, Rons Garage can provide entertainment for all individuals seeking excellent live music.
VIDEO DEMO