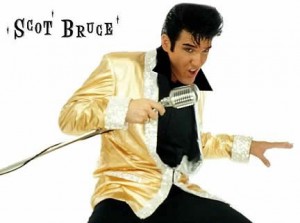 Originally from the Pacific Northwest, where he was an air-personality at the top 40 FM radio station Z-FUN 106 and a drummer, Scot has lived in Los Angeles since 1990. While pursuing his career as a musician/actor (and having been a musician and a big Elvis fan all of his life) he started doing a 1950s' era Elvis show as a way to survive the lean times.
The result was a surprise to Scot… what was meant as a part-time "gig" to supplement his income blossomed into a full-time career.
Because of his uncanny resemblance to the young "King" and his ability to sing, strum a guitar, and swivel his hips, his live show has taken him all over the world to places like Japan, Hong Kong, Singapore, Malaysia (where he had the privilege of performing for the King and Queen), Mainland China, Australia and several countries in Europe and South America. He regularly plays concert dates across the United States. As Elvis, Scot has appeared in music videos with Sheryl Crow, Faith Hill, and Tasmin Archer, as well as on the FOX TV sitcom "Partners." Scot has also been heard as the "Resident Elvis" on the highly rated Los Angeles morning radio show "Mark and Brian" on KLOS FM.
Most recently, Scot has appeared in a recurring role on the hit soap opera "Days of Our Lives," a Pizza Hut commercial, and as the lead role in three successful productions of "Idols of the King": the prestigous Barter Theater in Virginia, the Tennessee Repertory Theater in Nashville, and ArtPark in upstate New York. If you saw the "True Hollywood Story: Elvis in Hollywood" on E! Entertainment Network, that was Scot playing Elvis in the recreation scenes. Aside from "Being Elvis," Scot has also been seen as a night-club crooner on "The Bold and the Beautiful." Scot is a song-writer, and (whenever possible) performs an acoustic guitar/harmonica solo act in the local pubs, and plays the drums with an LA-based rock-a-billy band. Two of Scot's original songs were used in Riverdance Pictures' 1999 film "On the Turning Away."
VIDEO DEMO
View A "Rockin Tribute" here:

View and "American Trilogy" here:

PHOTO GALLERY