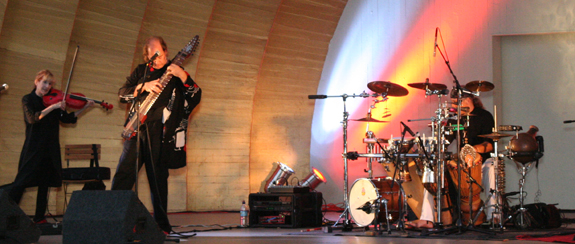 String Planet features violist Novi and composer-Stick player Larry Tuttle. In their music, Classical Crossover meets World Beat – 20th Century classical influences are combined with an ethnic percussion section and a pop-music aesthetic. Lyrical melodies soar over a moving bed of drums and hand drums.  Novi and Larry recorded and toured together for years, combining the Stick and viola with a world music rhythm feel.
LARRY TUTTLE – THE STICK
Growing up in Seattle, Washington, Larry Tuttle discovered the string bass at age nine and embarked on a childhood saturated in music, playing in school orchestras, All-City orchestras, Youth Symphonies, college symphonies, and just about every kind of ensemble imaginable. Larry studied classically at the University of Washington as a string bass major under James Harnett (principal bass – Seattle Symphony) as well as taking extensive private study with such notables as Ron Simon, Ring Warner and Oscar Zimmerman. A short study course in ear-training with jazz great Gary Peacock was a revelation, opening his ears to jazz and helping to develop deep listening skills and musical philosophy. Larry played principal bass for a summer at the National Music Camp in Interlochen, as well as sitting in with the Seattle Symphony as an honor student.
Discovering the electric bass and progressive rock bands such as Yes, ELP and Gentle Giant while in high school, Larry went on to play for ten years with rock group "Russia", moving to Los Angeles and recording two albums for Warner Bros. Records.
After the Russia years, looking to expand his musical choices, he added The Stick to his repertoire of instruments. It was a life-changing move. The Stick opened up entire vistas of musical expression. As a new instrument with plenty of untapped potential, it offered both a challenge and an opportunity for creating a totally unique musical identity. The Stick's two-handed playing technique and contrapuntal sound also made it an ideal instrument for expression as a composer.
NOVI NOVOG – VIOLA
Novi Novog and her viola have been heard and seen on recordings, films and concert stages all over the world. She is one of LA's top session musicians, with a long list of credits including solos on Prince's "Purple Rain" and "Raspberry Beret," The Doobie Brothers' "Black Water", and album appearances for such diverse artists as Bonnie Raitt, Terrance Trent D'Arby, Michael Jackson, 10,000 Maniacs, Cher, James Taylor, Spinal Tap, Madonna, Tom Petty and Tangerine Dream. Her performing credits include such names as Frank Zappa, The Doobie Brothers, Aretha Franklin and Jennifer Warnes. A valley girl from North Hollywood, CA, Novi began playing piano at age four. When she was eight, she took up the violin, then moved on to viola. As part of the American Youth Symphony, Novi studied under Mehli Mehta, then attended California Institute of the Arts on scholarship under Louis Kievman, where she received the American String Teachers Award. In addition to her work in viola and piano, she studied composition at Cal Arts under Leonard Stein and Alan Chaplin.
PHOTO GALLERY