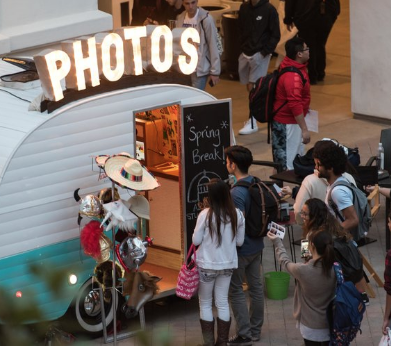 Looking for that unique touch to your wedding, private party, or corporate event? Look no further! Fab Trailers Photo Booth is a one-of-a-kind photo booth that brings a retro trailer, mid-century modern design, and the finest photo booth technology all together for one fabulously fun experience. So gather your friends and step inside. They'll capture the laughs and leave you with an experience you won't soon forget.
Custom built with a nod to mid-century modern design, the Fab Trailer may feel more like a snazzy lounge than a photo booth. You might even want to stay awhile after taking your photo! They use DSLR photography and high quality on-site printing. Within seconds, each guest will receive a copy of their event memento: a Fab photo personalized with your event logo!
Every package includes a collection of high quality, colorful, fun props that range from hats, to glasses, to mustaches on sticks. Have a particular theme for your corporate event or party? They can match it with fun decor and a themed prop selection! Interested in different backdrop colors, social media sharing, customizable photo styles, and guest albums? Don't worry, they've got you covered!
Their goal is to provide a unique and memorable experience and that doesn't stop at the Fab Trailer. Their friendly assistants will be engaged with your guests throughout the entire event, running the technology and making sure that everyone is having a fabulous time! They love what they do and can't wait to share some laughs with you!
FAQs… Let's Talk Details
The trailer comfortably seats 6-8 persons but they've actually squeezed 18 people inside! "How many can fit?" They'll typically respond, "Let's find out!"
The trailer measures 7'6″ wide, 7'6″ tall, and 12′ long (tongue included). They're happy to operate indoors or outdoors as long as all entryways are large enough.
One 120 V standard plug reachable by their extension cords gives them power. They can also provide a generator for an additional cost.
The Fab Trailer will typically arrive an hour and a half before start time to set up but can arrange an earlier arrival if need be.