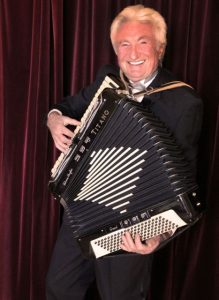 With roots in Castellamare, Sicily (Italy), Tony has brought his charming personality, exceptional musical talents, and knowledge of Italian culture and language to audiences around the world.
Band leader and pianist for the renowned Roman Holiday Italian Ensemble, he's traveled extensively for the last three decades with his popular Italian-themed band and dancers. His Hollywood movie credits include an active role in the major films,
A Walk in the Clouds starring Keanu Reeves and Anthony Quinn and in Rodney Dangerfield's film, The Fourth Tenor.
He also worked as a double for many years throughout the 1980's, representing the then-famous character, "Father Guido Sarducci." Talented and charming, Tony's warm and inviting personality, coupled with his fluency in the Italian language, makes him a perfect choice for a wide variety of Italian-themed events.