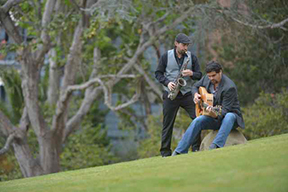 Blending the unique sounds of Guitar, Vocals and Saxophone. Sam Hosking and Joe Cardillo have achieved an incredible reputation for entertaining at any style of party or event.

This exciting duo are San Diego based featuring the velvet vocal and guitar sounds of singer/songwriter Sam Hosking and the virtuosity of accomplished musician Joe Cardillo on saxophone, flute, guitar and vocal harmony.
With a wealth of songs from many different genres of music including Rock Classics, Jazz, Ballads, Upbeat Top 40 and much more and with over 5000 shows between the two of them, Sam and Joe are the perfect addition to your event.
COVER SONGS FOR ANY OCCASION
ACOUSTIC GUITAR | ALTO AND TENOR SAXOPHONE | FLUTE | VOCALS | PERCUSSION
VIDEO DEMO