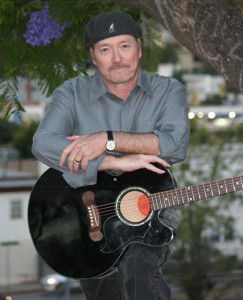 Multi-talented singer-guitarist-songwriter Dan Kirkpatrick hails from the Midwest, and has been veteran of many touring rock bands before moving to Hollywood where he led his own bands, including the critically acclaimed blues band .
Earl Seratte and The Blues Kings, who toured extensively in the Southern California area for many years. Their CD release Verite had what reviewers called a great combination of traditional blues, swing and modern rock-style songs delivered with panache and makes this band a must see if they hit a club near you.
In the last few years Dan has had songs featured in film and television, including the recent Fox show The Goodwin Games, NBC hit series. My Name Is Earl and Showtimes Huff along with A&Es Biography. His work can also be heard in the feature film The Other Brother, the film short Lyla Wolf: (Infractus) and his playing on Julie Brown's recent Smell The Glamour release. He can also be heard on many indie studio projects including The Showdown Stage Production recordings of Wild Dust The Musical, Bergeracky, Peter Panic, and Nottingham to name a few.
Influenced by blues and rock legends Eric Clapton, Tom Petty, among many others, Dan Kirkpatrick has developed a style all his own.  A potent amalgam of traditional blues with the dynamic intensity of rock & R&B, Kirkpatrick has created a soulful sound based on traditional blues but with a rock/pop edge. From the Beatles to James Taylor to Keb Mo, Dan either can rock the house with his original searing electric blues and acoustic down home blues, or keep it mellow with his wide range of eclectic artists that he covers.
AUDIO DEMO