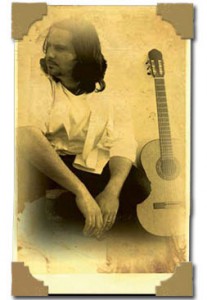 Passion, Rhythm, Energy and Love: the elements most prominent within Emilio Castillo's music.
A combination of Spanish flamenco guitar, South American rhythms together with modern and new age influences, make his music for both a meaningful and energetic experience.
Having both European and South American background, Emilio Castillo has been exposed to different cultures which have helped in the development of his music. "While growing up, I always had a variety of music and culture around me. One minute listening to very profound Flamenco music, and the next, dancing to Merengue music in the living room," Emilio explains. "These things stay with you as you grow up."
Emilio Castillo returned to Europe to work and perfect his art. He stayed for a total of four years playing his guitar at small clubs and restaurants. Although he spent most of that time in Rome, Italy, he traveled
through most of Europe and South America. "I love the Mediterranean culture and people, but I must say that I met wonderful people and saw beautiful things throughout all my travels."
Emilio Castillo now lives in Laguna Beach, California where he is concentrating on his music and its promotion. His newest CD self-titled "Emilio", released in 2003, has been wonderfully received, selling out in its first few months. His previous two releases, "Modern Gypsy" and "The Midnight Dance" continue to delight listeners and receive much praise.
Emilio Castillo is continuously writing and performing new music and is very excited to put it out for everyone to enjoy.