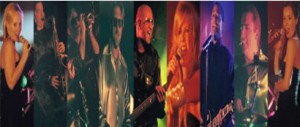 The EPIC SHOW BAND features individually talented performers that
have shared the stage with many of the top corporate show bands
in the country.
Whether it's the Supremes you miss or the diva-dom of Beyonce,
our beautiful female lead singers, will surely bring it. The classic
rock of the 60's Rolling Stones meets the 70's disco hits of Donna
Summer, with this versatile band…..and all in one special evening!
The amazing talents of our horn section, drums, bass, guitar and
keyboards will surely mesmerize. You will be mystified by classic
jazz and favorite Sinatra ballads during dinner, and then we'll keep
you dancing to the best of Kool and the Gang, or the funky groove
of old motown, along with current faves all evening.
Enjoy the EPIC SHOW BAND performing fun-loving music from 1960
to today's current hits, ranging from Stevie Wonder to Fergie.
It's all here in one sparkling group!
VIDEO DEMO