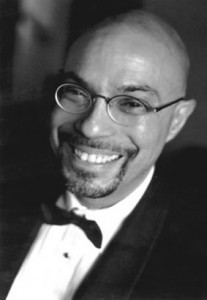 Pianist, saxophonist Kamau Kenyatta currently resides in San Diego, CA where he is a lecturer at the University of California's Jazz Studies Department.
Originally from Detroit, his versatility comes from his early exposure to a vast array of musical styles. This talented performer-composer-arranger-producer has worked with jazz greats such as Hubert Laws, Earl Klugh, and Patti Austin. World tours have taken Kamau to over 20 countries and include stints with Donald Byrd, Jesus Christ Superstars' Carl Anderson, The Supremes, New Kids On The Block and 90's hip-hop groups Silk and SWV.
Kamau has also collaborated with Hubert Laws in writing the score for "Small Steps, Big Strides" a Fox network documentary concerning the history of African-American film. He has also written and supervised music for "The Dawn At My Back," a Sundance Film Festival award-winning interactive DVD-ROM memoir.
His most recent project "Celebrating Neruda," intertwines dance, Latin
American music, and the poetry of the Chilean genius, Pablo Neruda.
PHOTO GALLERY