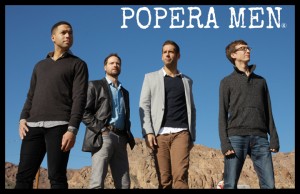 Imagine if Puccini, Verdi, Mozart or Beethoven were alive today…what kind of music would they be composing? POPERA MEN™ make this question a reality. Old School Entertainment with range that no other group has been able to display, this core group of 3 Leading Men, bring no limits vocal entertainment to every show.
With a cumulative of over 4,000 performances World-Wide, this talented trio has been surprising audiences with their creativity, range and knowledge of numerous vocal genres, appealing to virtually any age demographic. With mastery of the Classical/Opera Repertoire and degrees in the Classical Arts, this trio has honed their talents on some of the biggest stages in the World (Lincoln Center, Los Angeles Opera, Broadway) and have worked with and performed for a who's who of of the rich and famous. Command performances for American Idol® personality, Ryan Seacrest and luminaries such as Nancy Pelosi, Gov. Jerry Brown, The US Army, US Postmaster General, Patrick R. Donahoe, Annette Bening, Georgio Marciano, Essa Pekka Solonen, Ray Romano and Placido Domingo have earned them a place in the Classical Crossover Genre.
But that's not all…
The group gives homage to the Classical Arts but that's just the beginning of what the collective can do. Every member brings his (and sometimes her) talent to the creation and development of new takes on traditional compositions that are designed to educate, interest and always entertain their guests. Clever uses of electronic vocal manipulation (pedals), Beat Boxing and A Capella versions of well-known Classic Broadway, Pop and Jazz Pieces allow for creative segues and are designed to engage, feature and sometimes breakdown what is about to happen…some instances, a performer might even move into the audience!
No Limits Vocal Entertainment allows the group to put forth never-heard remakes of classics like Journey's "Wheel In The Sky", Pink's "Perfect", One Direction's "Story of My Life" as well as Medleys from "Man Of La Mancha", "West Side Story", selections by well-known Crossover Artists like Josh Groban, Andrea Bocceli, Russell Watson, Il Divo, Il Volo and still bring World-Class Operatic Singing with Arias from Turandot, Carmen, Pagliacci and Marriage of Figaro.
VIDEO DEMO