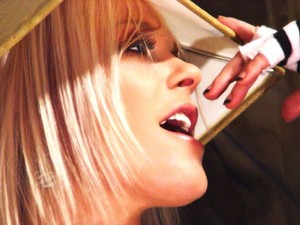 She's been playing and creating music for as long as she can remember.
As a kid, Sarah's mother was a dancer, and her father a drum builder. Sarah has both a younger and an older brother who both play instruments as well.
Growing up, art, music – It was everywhere.
From an early age, Sarah's parents recognized her love for the piano and did everything, literally, to help nurture that.  Not too long after she began playing, she began writing, and again- her parents did everything in their power to help encourage it.
Through the course of her life and up until this point she has had experiences, some great, some not so great, but all in all together the reason she does what she does.
It's life that gives her the thoughts she puts on paper.   And a beautiful and talented job she does at that.  As both a creator of music and as a singer.  Sarah says, "I create music, and there is nothing I've found that compares to the joy I feel when I hear that the music I've written has become a part of someone else's experience."
Sarah was classically trained from the age of three.  Attended the Idyllwild Arts Academy and holds a Degree in Composition from UNLV.
VIDEO DEMO
Albums out: The Sarah Sessions, The Joshua Tree Sessions, Itunes Compilation
Her song "I Won't Let You Go" has been featured on One Tree Hill. Sarah can perform her own works, or perform more widely recognized repertoire of music.