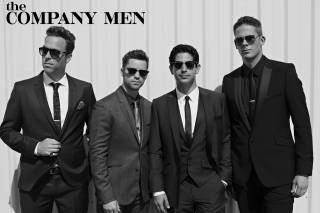 Shawn, Daniel, Brian, and Stuart were all working their 9-to-5 jobs, putting in long hours to support themselves and their families:
– Shawn worked for "the mouse,"
– Daniel juggled website construction with being a stay-at-home dad,
– Brian worked for his family's executive search firm, and
– Stuart was serving in the U.S. Coast Guard.
Fast forward to a Las Vegas casino in April, 2011, where the four found themselves discussing their individual dreams and goals.  Call it fate, call it a lapse in judgement, but all 4 guys decided together to take a risk: to move away from the security of the 9-to-5 job and start the COMPANY MEN.
"Modern Gentlemen"
In addition to a deep love and respect for yesterday's music, they also wanted to bring back what it means to be "a gentleman." It's more than just being polite:
– A gentleman opens the door for others.
– A gentleman stands when a woman returns to the table.
– A gentleman displays chivalry and respect to all.
Their history creates a deep appreciation for each and every opportunity to perform. Each concert is one step further away from that 9-to-5 job, and another step closer to a career like those of their musical influences.
VIDEO DEMO