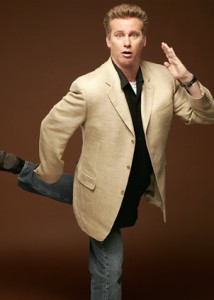 Critics and peers agree, Brian Regan has distinguished himself as one of the premier comedians in the country. The perfect balance of sophisticated writing and physicality, Brian fills theaters nationwide with fervent fans that span generations.
Brian's standard of excellence was set from the beginning. Watching such masters as Johnny Carson, The Smothers Brothers and Steve Martin, Brian was enthralled with the world of comedy and tried stand-up right out of college at a Ft. Lauderdale club an hour from his hometown of Miami. Touring the country constantly through the late 80's and 90's Brian won the 1996 American Comedy Award for Best Comedian, starred in two Showtime specials and performed on all the leading late night shows, including his life-long dream, "The Tonight Show with Johnny Carson."
With his first appearance on "The Late Show with David Letterman" in 1995, Brian solidified his place on the show and has returned at least once each year since to visit Dave. He now includes regular visits to "Late Night with Conan O'Brien" on his schedule.
Through prolific writing and tireless touring, Brian is the rare comedian to make the leap from comedy clubs to theaters without the exposure of his own TV show or film. It is the quality of his material, relateable to a wide audience and revered by his peers, which continues to grow Brian's fan base.
VIDEO DEMO