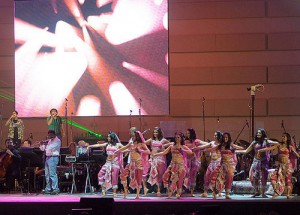 B o l l y w o o d !Known as Mumbai Film Industry, Bollywood is located in the heart of India-Bombay. It is the largest film industry in the world, producing almost double the number of movies and selling a billion more tickets each year than Hollywood.
Along with its' glamorous touch, Bollywood films are mostly known for their elaborate musical dance numbers. Producing more than 2500 songs per year, they have also been influential in Hollywood movies such as MOULIN ROUGE, CHICAGO and VANITY FAIR. The Bollywood dance style incorporates the fusion of Hip Hop, Jazz, Salsa, East Indian Classical, Folk, and Bhangra dancing.
For the first time in Los Angeles are, the true essence of Bollywood Dancing is brought to the United States, by YOGEN. He is the ONLY choreographer in the nation, who has worked in Bollywood. This dance troupe is dedicated to the art of Bollywood Dancing.
Launched in 2005, and in a short period of time has generated a reputable image in creating a vibe for the Bollywood Style of Dance.
VIDEO DEMO
PHOTO GALLERY