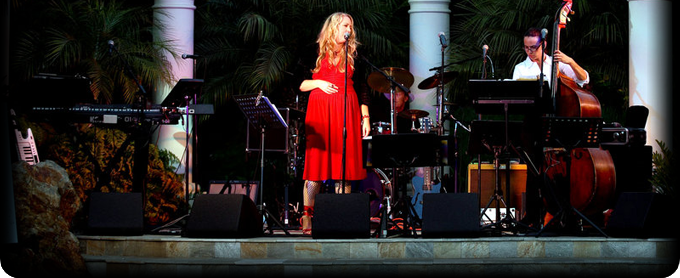 Allegato takes you on an eclectic jazz journey, performing music from around the globe and in 6 languages, including songs from Brazil, Japan, France, Italy, Argentina, Cuba, Mexico and the U.S. Their world mix of Latin rhythms, swing, funk, ballads, and gypsy jazz, all with a contemporary twist, makes for a truly international music and culture experience.
Custom designed Allegato ensembles for each themed event include: World Mix, Brazil Nights, French Bistro, Mediterranean Jazz, Latin Jazz, and Japanese Fusion. World class jazz musicians as well as traditional instrumentalists including accordion, violin, Latin percussion, and Japanese koto harp.
Alli & the Cats (Classic Jazz):
A classic jazz experience, combining timeless jazz favorites from the 1920s to present. Themes include: Big band era swing, Great Gatsby, cocktail jazz, classic jazz of the Great American Songbook, as well as classic Bossa Nova, Latin jazz, and French Chansons.
From corporate events to weddings and private parties, Alli & the Cats offer sophisticated live entertainment, drenched in style that moves you, and custom designed to create the perfect ambiance for your special event.
VIDEO DEMO
AUDIO DEMO
Errand Girl For Rhythm

2:10

2La Vie En Rose

1:22

Tu Vuo Fa L'Americano

1:53

VolverCWM

1:52

World On A String

1:34
PHOTO GALLERY