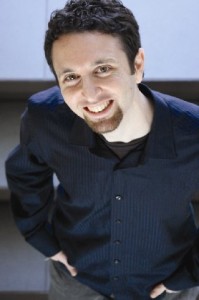 San Diego has launched some amazing jazz artists and Danny Green, a native of Southern California, is swiftly following in their footsteps. At twenty-eight years old he has managed to carve out a place for himself in the lineup of young jazz artists who seem to have a pulse on keeping the tradition of jazz piano alive while stepping boldly into the future through the use of cultural sounds and world music rhythms.
Green is equally versed in Classical, Jazz and Latin styles beginning his musical studies listening to his father play violin with his quartet and studying piano at the age of five. He shifted his attention towards Jazz and Latin music while in High School and has never turned back being first inspired by Ruben Gonzalez.
Green received his B.A. in piano performance at UCSD, where he graduated with honors and won the Jimmy Cheatham Jazz Award. He has studied with Rick Helzer, (Professor of Jazz Studies at San Diego State University), Kamau Kenyatta, Anthony Davis, Otmaro Ruiz, Marcos Silva, Jovino Santos-Neto, Guinga and classical studies with John Mark Harris and Luciane Cardassi. Green also credits the CA Brazil Camp for developing his understanding of authentic Brazilian style and substance having participated in their program since 2006. Since that time, he has been playing with some top musicians including Peter Sprague, Eva Scow, Aaron Serfaty, Duncan Moore, Mike Holguin, Julien Cantelm and Justin Grinnell. In 2006 he produced and released a CD with the group, Caballero-Verde Quintet, entitled Past Due which received some international attention.
Green doesn't waste any time revealing himself on his solo debut CD, With You In Mind featuring Danny Green (piano, Rhode, melodica), Justin Grinnell (bass), Dylan Savage (drums), Alan Phillips (percussion) and Tripp Sprague (soprano saxophone). One of the next generations of pianists that offer the kind of depth and passion for music that will quench a jazz lover's thirst, Danny serves it up with intense flavor and sometimes an unexpected kick. The album received extensive airplay around the globe rising to #18 on the National Jazz Radio Charts, and won "Best Jazz Album" at the 2009 San Diego Music Awards. Green began working on With You In Mind in November 2007 after producing the Afro-Cuban Jazz inspired album, Past Due (which featured trumpet, bass, drums, percussion and a very young Danny Green). After that experience Green felt confident to stretch out with his own piano trio revealing his love for Brazilian and Latin rhythms that are an integral part of his sound. In August 2006, Green attended CA Brazil Camp for the first time and it was a huge turning point in developing his style. "Working with great artists there like Marcos Silva and Jovino Santos-Neto, I began to get a sense of how to make Brazilian music work in a trio setting, and I was exposed to so many different styles of Brazilian music. I came home from this workshop with new motivation and began arranging tunes off of recordings for my trio. This process, more than anything, helped me get deeper into the various styles and influenced many of the compositions on the CD. As soon as I felt comfortable in a specific style like baiao for instance, I would set out to write a piece in that style."
In With You In Mind, Green combines both Brazilian and Latin influences cradled in mainstream jazz and classical nuances. Aside from "Suite For The Americas," all of the pieces on this album are original compositions that he wrote between November 2005 and March 2008. As a composer, he always strives to do something unique with his music. Even though some of his pieces lean towards conventional harmony, he manages to include some surprises that he hopes will enhance the music. "I like my pieces to tell a story by having different sections, familiar tags, and sometimes different solo sections for each instrument".
As a result of Green's musical influences his sound comes across to listeners as a pianistic mixture of Bill Evans, Brad Mehldau, Danilo Perez, and Ravel with original compositions emerging from the sincerity of his soul. Green understands the essential nature of jazz and shares his joy with other musicians while continuing his quest for greater musical accomplishments. "I think more than anything, the musicians that I play with motivate me to play. I feel fortunate to work with such great musicians and I always find myself inspired to play when I'm with them and the constant desire to improve. One of the things I love about music is that you can always keep aiming higher, and the effort is always worth it." Danny Green is definitely a pianist with something to say leading him to a successful musical future.
Quartet with Sax 1

1:41

Quartet with Sax 2

1:22

Quartet with Guitar 1

0:58

Quartet with Guitar 2

2:01

Sample for Ceremonies 1

2:19

Sample for Ceremonies 2

2:18

Trio 1

1:00

Trio 2

1:15

Solo Piano

1:54