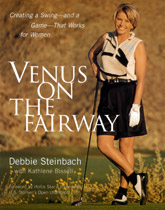 Debbie (a.k.a. Venus) is also a highly entertaining speaker and has presented to major corporations, golf industry groups and non-profit organizations. Her narrative about life on and off the golf course is filled with wit and humor. Debbie's view on the differences between men (Martians) and women (Venutians) golfers will leave you smiling all the way to your next tee time.
DEBBIE'S BIO:
| | |
| --- | --- |
| Debbie Keller, (formally Debbie Steinbach) is the founder and CEO of Venus Golf and the author of Venus on the Fairway, a popular book that highlighted the differences between men and women on the golf course and explained why different kinds of instruction are appropriate for each gender. Under a subtitle of "Creating a Swing and a Game That Works for Women", Keller's premise is that men and women are different – both physically and psychologically and that the same teaching methods don't apply to both.In February of 2004 Debbie released her second book, Venus On the Fringe, with the subtitle Creating a Swing That Works for Humans! With this second book, Debbie explained there are no differences between men and women regarding the short game, it is all about technique. |   |
| | |
| --- | --- |
| After playing for 12 years on Ladies Professional Golf Association (LPGA) tour, Keller decided to focus her career on golf instruction. She became a Class A teaching professional and soon thereafter was selected by Golf for Women Magazine as a "Top 50" instructor. She teaches private lessons at The Palms Country Club in La Quinta, California as well as conducts entertaining and instructional clinics for major corporations and other organizations throughout the United States.During her career Debbie posted eight different course records, 11 holes-in-one and a low competitive round of 64 at the Riverside Golf Club in San Jose, California. Her depth of knowledge about golf led her to becoming a commentator for NBC-TV, ESPN and several cable networks. She co-hosted the talk radio show in Palm Springs called "Tee Time" for two years. | |
Keller is a contributing editor for Golf Tips Magazine and a frequent writer for Golf for Women magazine. She has been a spokesperson for infomercials produced by several golf companies, including Daiwa, Matzie, Carbite, GolfGear, and The Medicus.
A native of Orange County, California, Keller attended The University of Fullerton, California. She is currently the national spokesperson for the fast growing and popular women's golf organization, Women On Course as well as the newest member of the elite Callaway Golf instructional team called "Master Staff" professionals.
Today, Debbie is married to her "favorite Martian" Scott Keller and they split their time between homes in Rancho Mirage, California and Chicago, Illinois. Debbie Keller aka "Venus" continues to spread her message that men and women are different and should be taught golf differently through her published articles, speeches and golf clinics throughout the country.