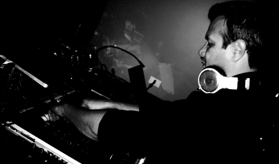 DJ James has been a professional DJ based in Palm Desert since 1992 and covers the Orange County, Los Angeles, San Diego, Las Vegas and Bay area. Although Weddings and Corporate events are the majority of his business, he has a heavy background in the Night Club Industry which accounts for his mixing skills.
His experience combined with great microphone presence allows him not only to cover a wide variety of functions but also consult with the music formatting and execution of your event itinerary.
James has multiple "state of the art" sound systems that allows the client to have sound reinforcement in various areas of the event if needed. He can also provide the following services; Intelligent Lighting, DMX controllers, Trussing, Video Screens, Projectors, High End Sound Systems (1,000 plus) Gobos for company logos, Haze or Fog Machines, as well as Karaoke. (50,000 songs)
The heart of James's sound system is the "MacBook/Serato Interface" which completely digitizes the music library and makes all genres of music available at any time. In addition, the MacBook comes equipped with an "AT&T G3 Air Card" which allows for fast on the spot downloading and playback of music files from ITunes or Amazon. This is extremely valuable for last minute changes to the music itinerary.
James is prompt, courteous & flexible to meet the specific needs of your party.
PHOTO GALLERY