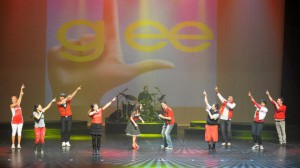 What do you get when you cross a slushy with a subway train? … A musical mash-up like you've never seen. Glee Club style!
Watch your favorite personalities from the hit show GLEE as they travel to New York to compete in the Regional Choral Competition.
It all begins with the Glee Club's national anthem, "Don't Stop Believing" as nice-guy Mr. Schuester goes head-to-head with the sarcastic Sue Sylvester, to convince the kids they have what it takes to make the regional cut. It's a mission Mr. Schuester is finding a lot harder than he thought! Even the kids take a note from Little Shop of Horrors when they sing that Sue can be a "Mean Green Mother".
With a little music motivation from the likes of Katy Perry and The Beatles, the Glee kids sing their way to New York and experience the wonder of Broadway.
Performed by an amazing cast of 'singers and shakers', this high-energy production brings music, characters and drama together, to tell a classic story of big dreams and even bigger hearts.
VIDEO DEMO
PHOTO GALLERY