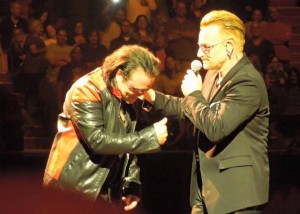 Hollywood U2 is the World's Greatest U2 Tribute Band.
They've recently performed in front of millions for Mark Cuban and Ryan Seacrest's network television show on AXS.tv "The World's Greatest Tribute Bands" (June 3rd 2013 – The Roxy Theatre – Sunset Blvd – CA , hosted by Katie Daryl).
Hollywood U2 are not simply U2 impersonators who have an uncanny resemblance, but consummate musicians who bring the true heart of U2 to every performance.
Hollywood U2 shows bring the respect that U2, their music, and their fans deserve through the precision, excitement, and exact emulation of a U2 concert. This show is as close as you can get, aside from hiring U2 themselves. Hollywood U2 truly are the World's Greatest U2 Tribute Band in every sense of the word.
Travelling internationally, Hollywood U2 performs U2 Music from:
'Boy, October, War, The Unforgettable Fire, The Joshua Tree, Rattle and Hum, Achtung Baby, Zooropa, Pop, All That You Can't Leave Behind, How To Dismantle An Atomic Bomb, and No Line On the Horizon' with unrivaled accuracy as only Hollywood U2 can.
The Hollywood U2 tribute show is as compelling as seeing an actual U2 concert and is a must see for all U2 fans.
VIDEO DEMO