While he has been called 'The Hollywood Magician to the Stars' (a bit unusual for a down-to-earth guy from New Jersey), spoken of on National Public Radio, and regarded as one of the top professional magicians in the world, Howard Jay's real magic is in bringing non-stop laughter and wondrous amazement to any corporate or private event, especially yours.
Whether enchanting celebrities, major corporations or the family-next-door, Howard custom-writes each performance, so that you and your guests become the real stars. By the event's end, everyone is under the spell of his fast wit and warm personality, knowing that they have just had a one-of-a-kind and once-in-a-lifetime experience. The magic that Howard will perform at your event is the same top-quality magic he uses when he regularly stars at the world famous Magic Castle in Hollywood.
Howard Jay's skills in the field of corporate entertainment are unparalleled. He has performed for hundreds of corporations, from IBM to ABC, from Beckman-Coulter to Eastman Kodak, from American Airlines to Greyhound, from Shell to Texaco, from Gold's Gym to Kaiser Permanente, and from General Motors to Toyota.
Audiences are thrilled with Howard's Stage and Close-up performances, but they get most impressed by the combination of the two. As the event gets started, Howard goes from group to group, performing his astounding strolling magic, charming guests with his warm style, and getting them to mingle and excitedly ask each other "How'd he do that!?"
By the time he begins his after-dinner stage show, the audience knows that they are in for something far better than they would have imagined or have ever seen before. Howard has created such a buzz amongst the guests that they anxiously await each magical moment to come. Howard Jay feels like an old friend to them already who just so happens to be able to create the most astounding magic and comedy from whatever is happening in the room.
Throughout the performance, Howard interacts with the audience, involving them at every fantastical turn, so the magic seems to come from them as much as from Howard. They become the stars of the show.
VIDEO DEMO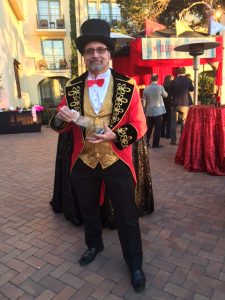 Howard's magic shows have included corporate performances for:
House of Blues
Toyota Motor Corporation
Warner Brothers
Bank Of America
Texaco, INC
Bank Leumi
Southland Industries
American First Federal Credit Union
American Airlines
Banque Nationale De Paris
Arco
Beverly Hills Fire Prevention Assc.
I.B.M.
Aurora National Life Assurance
Century 21
Farmers Insurance
General Motors
Deloitte & Touche
Corleto & Ackerman
Glendale Federal Bank
Toyota
Allstate Tax Services
CB Commercial
First American Title Insurance
Alpha Microsystems
Pacific Capitol
Greyhound
PMI Mortgage Insurance Co.
JW Marriot
Preferred Bank
ABC
Prudential Securities
Shell Oil Company
Sterling Bank
Los Angeles Times
Union Bank of CA
Hearst Entertainment
Pacific Mezzanine Investors
Re-Max
KABC Television
Pic-'N'-Save
The Playboy Mansion
Saban Entertainment
The Wiltern Theatre
Sony
South Bay BMW
Gold's Gym
Creative Computers
Jonathan Club
Assael Motors
The Los Angeles Country Club
Adam's Steel
Thunderbird Country Club
Woolf Farming Enterprises
Mullholland Tennis Club
The Staubach Co.
Kaiser Permanente
A.S.L. Consulting Engineers
Pfizer-Pratt Pharmaceuticals
Hancock Park Associates
United Cerebral Palsy
Smart and Final
Pacific Heart Institute
JAMS
Barlow Respiratory Hospital
Johnson Products
Cedars Sinai Hospital
"Home Improvement" Studios
Beckman/Coulter
The Athenaeum
Museum of Television and Radio
Yavneh Academy
GLAZA (Los Angeles Zoo)
Sinai Temple
Natural History Museum
Shalhevet School
Hollywood Arts Council
Beth Jacob Congregation
Urban Land Institute
CHABAD
Alta Dena Sheriff's Dept.
Ohr Ha-Torah
L.A.P.D West L.A. Division
Southern California Edison
DARE America
Southern California Gas
Honda
Pepsi
The Jewish Journal
Strix Systems
City of Beverly Hills
Chabad
Caltrans
Wasington Mutual Bank
Countrywide Home Loans
Worldwide Kosher
Venstar