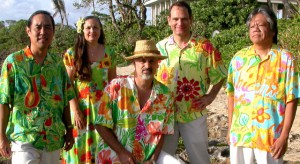 ISLAND JOE and his TROPICAL BAND specialize in a style know as "Trop-Rock". It is a fusion of music that melds Rock, Country, Reggae, Calypso, Cajun, Hawaiian, Afro-Cuban and Folk all together typified by artists such as Jimmy Buffet, Bob Marley and Harry Belafonte.
This is a global approach to all age groups and crosses cultural barriers, making them popular with the most mixed of audiences.
ISLAND JOE also puts their unique twist on the music of other great artists such as; Paul Simon, James Taylor, The Beach Boys, Marvin Gaye, Credence Clearwater Revival The Police, Louis Armstrong, Van Morrison and many more of your favorite artists for your listening enjoyment. This is a well rounded professional group that will put everyone in the "Island" state of mind.
AUDIO DEMO
Island Joe Bridge Over Troubled Water Cover

6:32

Island Joe's Me & Julio Cover

4:21