John Alex has been a very popular performing artist with Epic Entertainment since 1998. He is best known as a popular Disney-style trained caricature artist, always a hit for corporate event entertainment, but he originally started as a well-established fine artist.
As a child prodigy and began his formal training at the Dayton, Ohio Art Institute at the unusually young age of 6. John states, "drawing and painting in any form has always been easy and natural for me as long as I can remember." His art teachers from grade school through college recognized his artistic talent, broad diversity art skills in different mediums, imagination and excellent use of color and encouraged him to pursue art as a career.
He holds a formal BA degree in fine art and graphic design at SDSU with top honors. Early in his career John became a product designer in the craft industry designing seasonal figurines. John later continued his extended art training in figure drawing and background painting for film animation by top industry artists from Disney and Warner Brothers Studios at the American Animation Institute in Hollywood. He was also picked as the few to be specially trained as a Disney-style caricature artist at Disneyland. He's taught art for kids and adults. In subject matter he enjoys painting and drawing portraits, landscapes, seascapes and still life. John would be delighted to be available to perform for your next event.
SKILLS:
• Quick Sketch Portrait Artist (Chalk Pastel, Charcoal and Pencil)
• Classic Disney-Style Caricature Artist (Marker, Charcoal, Pastel and Water Color)
• Caricatures on T-Shirts with Air Brush
• Digital Caricatures on Computer
Also offering iPad Caricature Portraits:
Presentation options:
1. Our artist roams around guest's tables doing digital caricatures with iPad with company logo preset on drawing image area with digital caricature and can then be saved and wireless remotely printed out on 4×6" glossy at a different location and each print can then be inserted into optional vinyl name tags (outlet needed). Optionally, each caricature can be also be immediately e mailed to guests for digital copy.
2. More impact- Sitting on location with iPad mounted on small tripod with connected 27" vertically mounted display for guests to watch live action digital caricatures. Wireless printing, 4×6" glossy Color or Black & White lab quality digital caricature prints with preset company logo image which can be inserted into vinyl name tags. (see attached) Each digital caricature can be also be saved  and sent to each guest by e mail.
VIDEO DEMO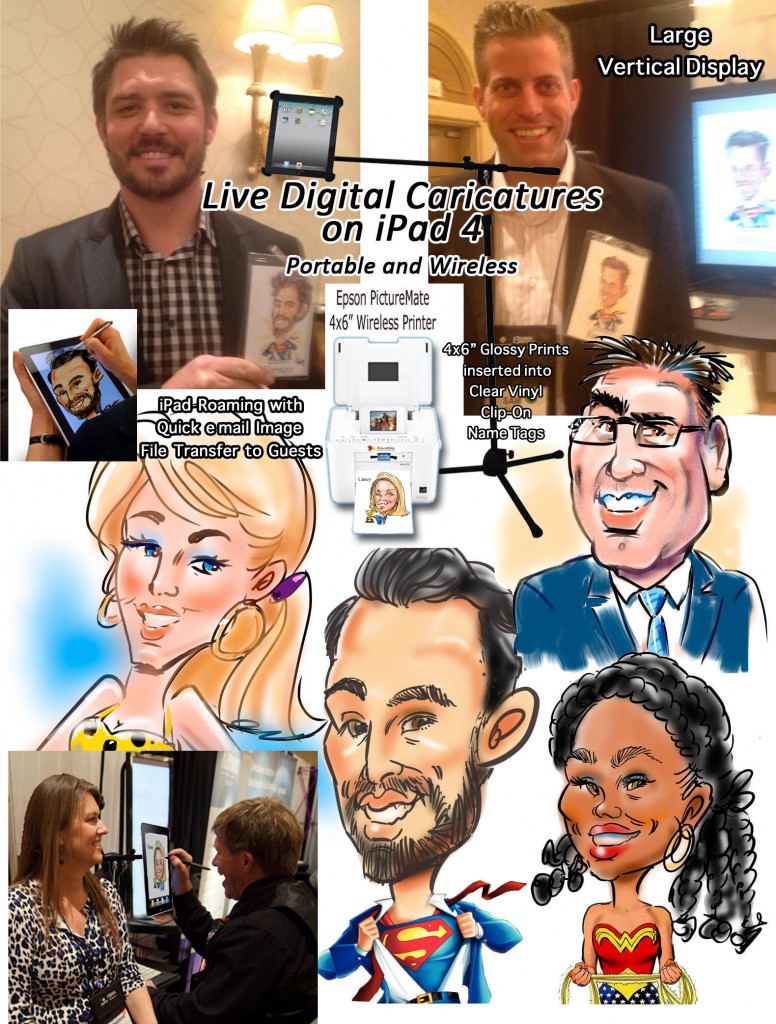 Fine Art Sample: