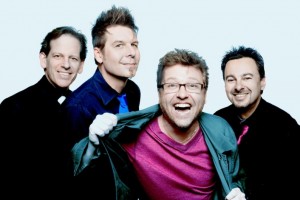 The Kings of 88
88 keys on the piano, 4 top pros from the LA music scene, on 1 stage having a rocking good time! That's The Kings of 88.
Presenting a fun-filled tribute to the legends of piano-rock including Elton John ("Take Me To The Pilot," "Honky Cat"), Billy Joel ("My Life" & "Big Shot"), Billy Preston ("Nothing From Nothing"), Little Richard ("Keep a Knockin'"), Leon Russell ("Tightrope"), Stevie Wonder ("Living' For The City"), Bruce Hornsby ("The Way It Is"), Coldplay ("Clocks"), Jerry Lee Lewis ("Whole Lotta Shakin' Goin' On"), and more.
Made up of an all-star cast of Los Angeles musicians, "The Kings" have carefully crafted a powerful set of music paying homage to piano-rock's most iconic artists. These longtime friends – each with their own impressive list of credits – have come together to present a collection of songs close to their hearts performed with a sincerity and conviction that will uplift and entertain any audience. Unlike other tribute acts, "The Kings" are not performing material from any specific artist, but rather presenting the iconic classics of the great piano-rock genre that have left an indelible mark on pop music history, as well as select tracks from contemporary artists who are carrying the piano-rock torch into the new millennium.
Founder, keyboardist, lead-singer, and San Diego native, Tommy Reeves is an acclaimed composer whose compositions have been heard on American Idol, The Tonight Show with Jay Leno, NBC hit shows Smash and Parks and Recreation, The Daily Show with Jon Stewart, E! Special Timbaland, The Oprah Winfrey Show, Access Hollywood, Melrose Place, E! News Live, So You Think You Can Dance, and Dateline NBC. His performance credits include work alongside Reba McEntire, Tony Bennett, Ziggy Marley, Melissa Etheridge, Jesse McCartney, and Burt Bacharach. Tommy is also an experienced educator with nearly 20 years at the world-renowned Musicians Institute, including a 4-year stint as director of the keyboard program. Tommy has also released two solo albums, Anyone Who Isn't Me and Another Lap Around The Sun. Reeves' first love is the deep tradition of the epic rock piano tunes presented by The Kings of 88, and he feels right at home fronting a show that pays homage to the renowned artists who have brought the piano center stage.
Drummer and Allentown, PA native Drew Megna is both an alumnus of and instructor at Musicians Institute. His deep knowledge of music reaches across all genres, from rock to funk, jazz to fusion, and beyond. He has studied with some of the most significant drummers of our time, including Dave Weckl, Ralph Humphrey, and Joe Porcaro. His impressive performance credits include: LL Cool J, Smoky Robinson, and Dakota Moon.
Bassist and Washington, D.C. native Maurice Verloop is an experienced session and live bass player who was awarded "Bass Educator of the Year" at Musicians Institute. His long list of recording and performing credits include: Carl Anderson, Nick Menza of Megadeath, Ray Luzier of Korn, and Bruce Conti of Tower of Power, to name a few.
Los Angeles native and University of California Santa Barbara alumnus Joel Wachbrit is an acclaimed guitarist, composer, and producer and two-time winner of the prestigious BMI Film and TV Award for "Theme Song of a Top Ten Show" for composing the theme song for Shark on CBS. Joel's compositions have been heard on television airwaves worldwide including; True Blood, Dexter, Modern Family, House, Treme, Sons of Anarchy, Homeland, CSI: New York, NCIS and The Office. His recording credits include; Ace Frehley of KISS, Edgar Winter, and The Three Degrees.
These talented friends created The Kings of 88 to share their love of this amazing music. Appealing to a diverse audience, they present an electrifying concert retrospective celebrating these great artists and songs, infused with their own infectious humor and enthusiasm. Their show promises to leave audiences coming back for more!
VIDEO DEMO