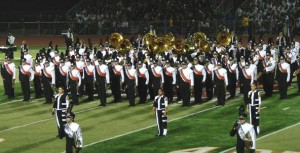 In 2008, the RCC "Marching Tigers" celebrated its 25th Anniversary.
The Marching Tigers have been the lead unit in the Tournament of Roses Parade, Macy's Thanksgiving Day Parade, Fiesta Bowl Parade and Hollywood Christmas Parade.
The Marching Tigers have also performed at four of the five Disney Theme parks as well as being the only band ever to perform in exhibition two years in a row at Bands of America Grand Nationals at the RCA Dome in Indianapolis, Indiana (1994, 1995). They are also the only American college band to perform in exhibition at the All-Japan Marching Band Championships at Budokan Hall in Tokyo (1987, 1993).
Athletic events are familiar territory for the Marching Tigers. They've played many halftime shows for the Los Angeles Rams, Los Angeles Raiders and the San Diego Chargers as well as opening day for the California Angels. The Marching Tigers have also performed for the Utah Summer Games in 1989, the U.S. Olympic Festival in 1991, and the Disneyland Pigskin Classic in 1993 and 1994. They were also the official pep band for the 1995 and 1996 John Wooden Classic at the Arrowhead Pond in Anaheim.
Also known as "Hollywood's Marching Band" The Tigers can also be seen in the opening credits for Austin Powers International Man of Mystery and The Truman Show.
VIDEO DEMO
2009 ROSE PARADE

2010 ROSE PARADE TRUMPETER FANFARE

DRUMLINE WARM UP