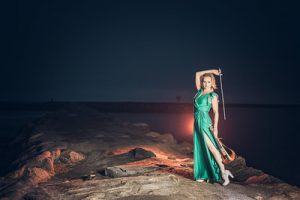 Marta Z is enjoying her DJ Electric Violin performing and studio recording careers as one of South California's leading and much sought-after violinists. In addition to her experience as a classical musician with Doctorate Degree in Violin Performance, she has crossed over to the non-classical scene, playing her electric violins and recording in genres leaping from Flamenco to Jazz, Folk, Indie, Pop, Rock, EDM and House Top40's. Marta showcases as a dancer and aerial violinist, performing her acrobatics on aerial silks and aerial hammock,  while playing the violin along her DJ tracks. Marta Z plays on Yamaha Yev 104 and NS Design WAV 5 and 4 strings violins.
Marta Z collaborates with artists all over the world, whether remotely or through travel. She lived and performed in Europe, Japan and the United States, performing multiple times at the Carnegie Hall in New York as a member of the ARCO Chamber Orchestra, with Steve Wonder, Gloria Estefan, Sheila E, Trisha Yearwood, B.B. King, Pointer Sisters and Little Richard under the direction of John Williams and Harold Wheeler at the Olympic Games in Atlanta. She appeared with Rihanna during the NBA All-Star Game Half Time Show and performs regularly in a Dave Matthew's Tribute band Stepping Feet. Many projects she's been involved with have been nominated and won the San Diego Music Awards. From joining the cast of Universal Studios Japan to the prestigious Hutchins Consort, Marta's ability to flow from one style to another has no boundaries.
Contact us for more information on booking Marta Z for your next event!
VIDEO DEMO
PHOTO GALLERY