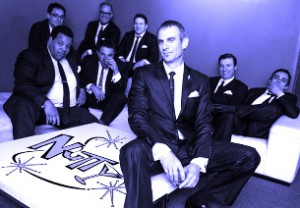 The band was formed by Sonny Moon (Joel Hile) and Guy Wonder (Mike Werner), who met in an earlier jump blues project called Chase Lounge and the Lazy Boys. Sonny was steering the band toward a lounge jazz sound, and Guy's addition to the band cemented the jazz transformation.
The band then became nutty, and so became Nutty, focused on jazz renditions of familiar classic rock songs.
It's "mash-ups" – rock / jazz tapestries performed against a backdrop of what feels like a Rat Pack show in the Copa Room at the Sands, circa 1960.
If you have seen the hit TV show Mad Men, then this is the band for you!
VIDEO DEMO