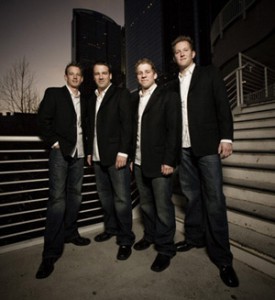 The story behind the quartet…
Inspired by artists like Michael Bublé, Frank Sinatra and Elvis, OC Times breathes new life into swing standards, rock and roll classics, and favorites from a variety of other genres. Hailing from Orange County, CA, Shawn York (tenor), Sean Devine (lead), Pat Claypool (baritone) and Cory Hunt (bass) take barbershop harmony back to where it started over a century ago: pop-culture.
In 2008, OC Times won the Barbershop Harmony Society's International Quartet Championship. They have been featured in major publications such as The Wall Street Journal, Saturday Evening Post, and SPIN magazine. The quartet is also featured prominently in an upcoming documentary film entitled "American Harmony."
Their first studio album, "Let's Fly" (2007), has reached critical acclaim, winning Contemporary A cappella Recording Awards for both Best Barbershop Album and Best Barbershop Song. Their highly anticipated sophomore album is expected for release in Fall 2009.
OC Times has toured extensively throughout the United States, headlining shows in venues such as Honolulu's historic Hawaii Theater, Los Angeles' Disney Concert Hall and the Lincoln Center in New York City. The quartet has also toured internationally with performances in Canada, England, Finland, Mexico, Russia and Sweden – upcoming engagements include regular performances throughout the US and tours of England, Germany and New Zealand.
VIDEO DEMO