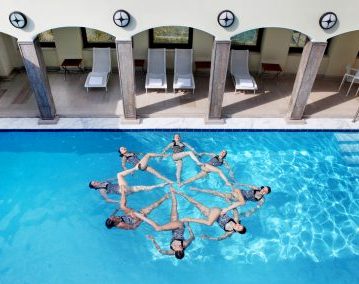 All, you need is water! Hosting an event around a swimming pool creates a unique atmosphere of anticipation and excitement and provides the perfect stage for entertainment.
With elegance and beauty, our Olympic synchronised swimmers will enhance your event by performing their spectacular routines, creating a delightfully unexpected and unforgettable experience for your guests.
Our performances work beautifully in all shapes and sizes of swimming pools, outdoors or indoors, anywhere across the world. From the outdoor swimming pool at the Cipriani Hotel in Venice to the indoor swimming pool at the Haymarket Hotel in London, we will create a fantastic water ballet spectacle that will be the talking point of the event.
As a creative, highly skilled and passionate bunch of people who just love the water, we thrive on new challenges and experiences and want to share the love for our aquatic discipline with everyone we meet.
PHOTO GALLERY