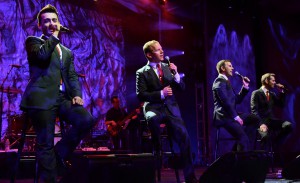 They took Broadway by storm in one of the biggest hits of all-time and now they're together again! THE MIDTOWN MEN are taking their sensational sound on the road for their third national tour. Bringing to life their favorite "Sixties Hits" from The Beatles, The Beach Boys, Motown, The Four Seasons and more.
THE MIDTOWN MEN – 4 Stars From The Original Broadway Cast of Jersey Boys
 Critics are calling The Midtown Men: "Terrific!" – Sirius-XM and "Inspired!" – NY Daily News
"Fantastic!" – Time Magazine Editor "Jump and jive all-american '60s sound." – Colorado Reporter-Herald
"The seats were filled with shouting, singing, dancing in the aisle fans!"  -Times Square Chronicles
 This sensational production reunites Four Stars from the Original Cast of Broadway's Jersey Boys. Tony Award winner Christian Hoff, Michael Longoria, Daniel Reichard and Tony Award nominee J. Robert Spencer, star in this one-of-a-kind concert experience celebrating the music that defined the '60s. This marks the first time the principal cast of a high-profile musical has sky-rocketed as a completely new entity – this is not mimicry or tribute, it's a true celebration of the music of an era, seven years in the making!
During their time in the mega-hit musical Jersey Boys, these four talented artists shared the stage for over a thousand performances and delighted television audiences with appearances on the "Today Show," "The Late Show with David Letterman," and "Dick Clark's Rockin' New Year's Eve."
From New York City to Los Angeles, and all points in between, don't miss the top-shelf choreography, incredible harmonies and legendary onstage chemistry that is THE MIDTOWN MEN!
"Superb. Bravo!" – Paul Anka
"TERRIFIC rock & roll!" – "Cousin Brucie" Morrow SIRIUS/XM Satellite Radio
"…as good as popping Meet the Beatles on my turntable for the first time!" 
 – Time Magazine editor
 Not A Performance Of, Not Affiliated With the Show Jersey Boys.
VIDEO DEMO
PHOTO GALLERY